Concrete Blocks
We now manufacture and supply a range of quality concrete blocks and bricks from our Santon Depot following a major investment in 2017.

The blocks are manufactured using state of the art mobile block making machinery, the Finlay '44' pictured below is fully automated and capable of casting a bale of 44 blocks approximately every 30 seconds. This is complemented by an automatic strapping machine and handling equipment


Our team at Santon can manufacture blocks using only quality natural aggregates in a range of strengths and sizes to meet your specification:

440 x 215 x 100mm (18"x 9"x 4")
440 x 215 x 140mm (18"x 9"x 6")
440 x 140 x 100mm (18"x 6"x 4" blockettes)

All of the above are available in 7N and 10N, with higher strength blocks able to be manufactured with a suitable lead time. 15N Concrete Bricks are always in stock also.

As well as ex-works collections from Santon, we can deliver island-wide in one of our 2 purpose-built block off-loaders . We can deliver up to 880 blocks in a single load and have a smaller 6-wheel truck for those sites with tighter access requirements.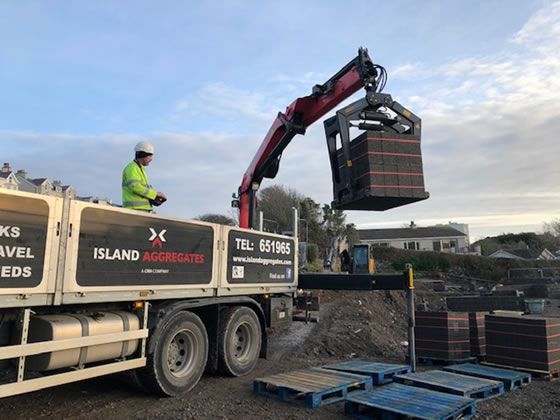 Data sheets on our concrete blocks are available on request.

For pricing enquiries please contact our Sales Representative Jack on 07624 494062
To place an order for collection or delivery please call Santon Depot on 01624 823863