Health and Safety
At Island Aggregates Limited we ALWAYS put Health and Safety first. We comply with all current legislation and continually strive to improve our management systems towards Industry Best Practice.
Our Goal is that everyone who works for us and with us returns home safe and well at the end of each day.
Within Island Aggregates Limited we continually promote a positive health and safety culture through a variety of approaches including:
Toolbox Talks
Safety Alerts
Best Practice Sharing
Safety Observation Scheme
CRH Safety Campaigns
Annual Company Safety Day
We provide training, instruction and supervision to ensure all employees are aware of the health, safety and environmental hazards associated with their work and accept their duty and responsibilities to take care of the environment themselves and others whom may be affected by their actions or omissions.
Being part of a large blue-chip organisation, we benefit from the support of experienced and dedicated health and safety professionals at Group level. They regularly audit our locations and ensure the development, implementation and monitoring of our health and safety management system across the company.
The Island Aggregates Health and Safety Committee meet quarterly to discuss current practices, brainstorm ideas, create solutions and to review Risk Assessments and Safe Operating Procedures.
Through the commitment of all our employees, subcontractors' and customers we continually strive for the ultimate target of Zero Accidents.
PRODUCT SAFETY
To assist our customers in ensuring the safe handling, storage and use of our products, we have produced a Safety Data Sheet, to download a copy please click here.
Environmental
Island Aggregates Limited is a responsible company and we seek wherever possible to manage the impacts of our business. Our environmental commitments are stated in the company's Environmental Policy, download a copy here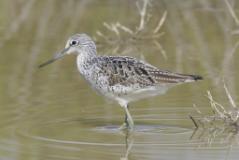 Greenshank, photographed at restored Point of Ayre gravel pits
Our Management team are always looking at ways to reduce our carbon foot print. In our diesel vehicles, we use the AdBlue system to reduce emissions. We also employ a tracking system to monitor energy efficient use of the fleet. Our locations use abstracted ground and surface water to reduce the demand on mains water from our process activities. Water is recycled within the process wherever possible and a high percentage is often returned to the natural system

Our 'Gyvlon' liquid screed product uses a 96% recycled binder. Its use in conjunction with underfloor heating systems in new-build projects significantly reduces energy demand in the finished building.

The biodiversity across all our sites in the Isle of Man is rich and diverse, no more so than at our Point of Ayre quarry with over 200 different species of birds being observed thin its boundaries. Among others we work in partnership with DEFA, Manx BirdLife and RSPB and take a proactive approach to protecting, encouraging and enhancing the varied species of fauna and flora that make their home within our business operations.
It is our policy to be "good neighbours" and to engage positively with the communities around our locations in the following ways:
We have a formal complaints system and we record and deal fairly with all complaints regarding our activities and/or environmental performance.
We facilitate school visits.
We facilitate visits by other interested parties, e.g., geological societies, graduate PhD geologists and bird recorders.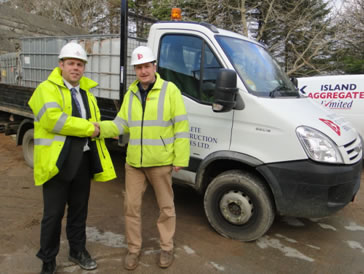 General Manager Stephen Smyth donates used bulk admixture containers to James Vickers of 'Hands of Hope' for use transporting clothes to the needy in Romania