Materials Testing
Island Aggregates Ltd offers a full range of construction materials testing, operating from a fully equipped laboratory situated on the Jurby Industrial Estate. In addition to managing all quality control aspects of Island Aggregates ready mixed concrete, aggregates, concrete blocks and floor screed products, we can offer a comprehensive suite of commercial testing services, including:
LAB TESTING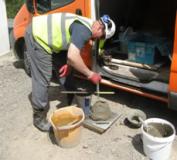 Testing of hardened concrete for compressive strength, density and dimensions
Aggregates grading
Moisture testing
ACV, Micro Deval, PSV and LA Abrasion Value Testing
Lab-based CBR testing
Dimensional and strength testing on precast concrete products
SITE-BASED TESTING
Site-based testing of fresh concrete
CBR - Plate Bearing Test
Surface Regularity of bituminous pavements
Sand Patch test
BRE screed testing
Moisture content of floors
For testing of fresh and hardened concrete, our laboratory holds third-party accreditation from UKAS, which confirms independence and compliance to ISO/IEC 17025:2005 "General Requirements for the competence of testing and calibration laboratories."
As a result of this accreditation, customers using these services are assured that every aspect of the testing is being independently carried out by trained personnel, in strict accordance with the relevant standards, and that equipment is frequently calibrated and checked for accuracy. Most importantly, the laboratory is being continually assessed and monitored by an independent third party.
To view the scope of our UKAS accreditation, please click on the link below: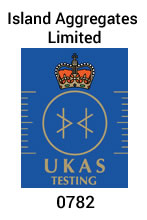 For expert technical advice on Island Aggregates products, or to arrange testing, please contact the lab on 01624 898211 or email our Technical Manager Simon Clarke sclarke@islandaggregates.com
Visitors are most welcome to visit and have a look around our laboratory. An appointment is advised to ensure staff are available.