Sand and Gravel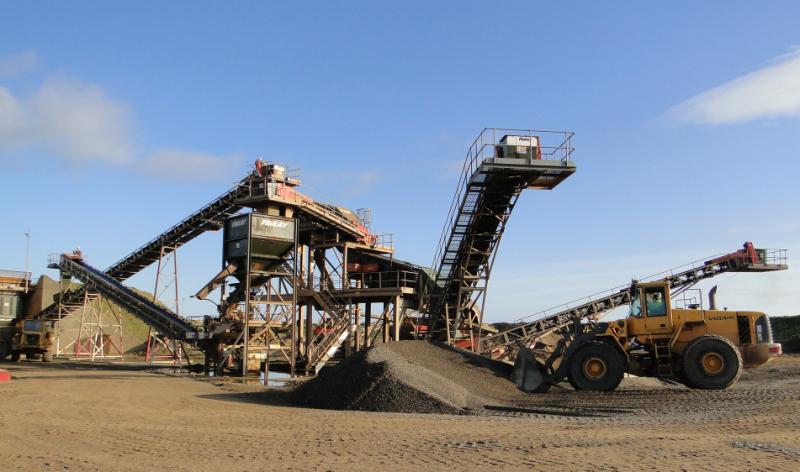 Island Aggregates Limited is the largest producer of natural sand and gravel products on the Isle of Man.
Our quarry is located at Point of Ayre, in the Island's northernmost Parish of Bride. The quarry is capable of producing in excess of 200 tonnes per hour through its modern washing and screening plant. Our 184 acre site has in excess of 3 million tonnes of mineral reserves ensuring a strategic resource to meet the Island's needs for many years to come.
Our current product range is listed below
| | | |
| --- | --- | --- |
| 2mm Building Sand | 10mm Gravel | 10mm 'All In' Sand & Gravel Mix |
| 4mm Concrete Sand | 20mm Gravel | 20mm'All In' Sand and Gravel Mix |
| 6mm Grit Sand | Decorative Cobbles | Sportsturf Sand |
Sportsturf Sand
A 100% natural product with a superior grading for drainage, our 'Sportsturf Sand' is fast becoming the go-to material for sports surfaces across the island. It has been tested by the Sports Turf Research Institute (STRI) against UK and USGA standards and found to 'safely fit the grading criteria for top-dressing golf greens and other sports surfaces'. So, for football and rugby pitches, golf courses and bowling greens, please give us a call for further details and to discuss your requirements.
Island Aggregates sand is also used in bunkers on many golf courses around the island. We also supply sand to the equestrian enthusiast.
Decorative Gravel and Natural Ayres Cobbles
While most of our gravel is supplied to the construction and manufacturing industry, it is also widely used in the DIY market, it's hard wearing qualities and attractive mixed-colour appearance making it the ideal choice for residential drives and footpaths. Larger cobbles in the 20-100mm range make an attractive landscaping product, which has been used extensively in private gardens and around new commercial premises at a fraction of the cost of imported decorative gravels.
Delivery Options
Our range of vehicles enables us to deliver any volume from 5 tonnes upwards. We also welcome customers at the quarry, should they wish to collect their own materials. Our sand and gravel is also stocked in all local builders merchants,
All sand and gravel aggregates are tested and graded to the current British and European standards.

Golfers hope not to get up close and personal with Island Aggregates' sand in the bunkers of Castletown Golf Links !!!