Billy Lays Down a Marker for Safety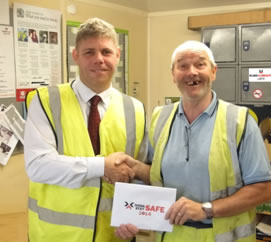 Safety Observation Scheme January – June 2014 Prize Winner Billy Blair receives his vouchers at Jurby Depot from
Stephen Smyth, General Manager
With his unmistakable smile, our Jurby based concrete-mixer driver Billy Blair receives his prize of a £50 voucher, for best submissions to the Island Aggregates Ltd Safety Observation scheme over the first half of 2014.
The scheme is an example of the safety culture we strive to maintain and build within Island Aggregates Ltd and is consistent with the Think SAFE Stay SAFE initiative we are running in 2014 and beyond. Employees are encouraged to report potential hazards within our operations, so that they may be eradicated or managed. Equally, we encourage the sharing of good ideas and practice.
In an email to staff announcing Billy as the latest winner Stephen Smyth commented:
"Billy submitted a total of 4 observations in the 6 month period including the following 2 which were judged to be worthy of the prize
Semicircular 'cyclops' mirrors on the front of our wagons do not give as wide a field of vision as rectangular ones and should be replaced
Spare wheel nut markers should be kept at all depots to enable replacement when markers become dislodged
Special mentions, but no prize on this occasion, went to Neil Crowe for some best practice sharing relating to signage observed on a customer's site and to Rob Beck for an observation concerning difficulty closing the gates at Point of Ayre in high winds. The standard of submissions was very good and shows a high regard for health and safety, which is encouraging as we strive for a lost time accident-free 2014 under our Think SAFE Stay SAFE initiative."
Congratulations once again to Billy from all the management team!
Back