'Magical Mystery Tour' leads to Point of Ayre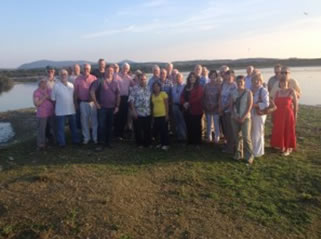 Onchan Rotary Club visit on 25th July 2014
The long days and warm, dry weather the Island enjoyed in July 2014 made for some very pleasant walks around our restored gravel pits at Point of Ayre with varied groups of special guests.
We host a number of these 'walk and talk' events each year and our visitors are invariably impressed not only by the scale and beauty of the setting and its varied wildlife, but by the way in which the site has been restored from a working quarry to a site where flora and fauna are thriving.
The balmy evening of 25th July saw General Manager Stephen Smyth and Production Manager Chris Wade host Onchan Rotary Club and their guests. Organised by Rotarian and Island Aggregates customer Stewart Clague, the evening was billed as a 'Magical Mystery Tour' with the party only knowing their final destination as we approached the quarry. We were also delighted to be joined by Dora Querido, Chief Operating Officer of Manx BirdLife and Sean Gray, one of the island's licensed bird ringers. Sean shared his unrivalled knowledge of the ecology of the site with our guests, who were thrilled to learn of the movements across Europe of some of the birds which had hatched at the Ayres.
The evening ended with a meal at Bride Methodist Church Hall, organised by the Rotarians. It was Island Aggregates pleasure to host what, by all accounts, was a very enjoyable event for all. Our thanks go to Stewart and the Onchan Rotary Club for considering our site for their tour!
Other visitors to the site over the summer months were Bride Women's Institute and the Association of Manx Veteran Cyclists.
Back